Jeffry 'Tedd' Schoch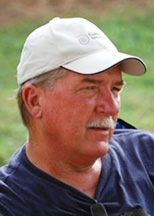 Jeffry 'Tedd' Schoch passed away in his home after a courageous battle with cancer, surrounded by loved ones on the morning of June 8th, 2016 in Winchester, Virginia at the age of 68.
Tedd is survived by his wife, Tanya Schoch, his mother, Doris Bachman (Schoch), his sister Martha Jan Hammer and brother Thomas Schoch, his five children Donald Schoch, Tyson Schoch, Jason Schoch , Krystal De Leon and Anthony Schoch and his four step children Fawn Stephens, Jonathan Mihokovich, Angelique Walker and Daniel Wines. He is preceded in death by his father, Howard Schoch.
Tedd was born on March 22, 1948 in Peoria, Illinois to Howard and Doris Schoch. He graduated from Southern Illinois University in 1971. Tedd was a successful business man, working in the Ready Mix/Concrete field for many years before transitioning to management at Lowes. He was loved and respected by his co-workers, to know him was to love him and love working for and with him. Tedd had a love for coaching, from holding assistant coaching positions at various college football teams right out of college to coaching his son's football team, he loved to be on the sidelines. This coach's heart followed him outside of the football teams; he was known for seeing the good in people and would never hesitate to offer a helping hand.
A funeral, preceded by a viewing at 10:00am, is scheduled for Monday June 13 at 11:00am at Hazel River Assembly of God, 14383 Hazel River Church Rd, Culpeper, VA 22701, with a reception to follow the burial in Culpeper. The reception will take place at the Holiday Inn Express, 787 Madison Rd., Culpeper, VA 22701. Reverend Robert Seagears will officiate the ceremony at 11:00am. All are welcome to attend and celebrate Tedd 's life. In lieu of flowers, donations can be made to the Zero foundation, a foundation dedicated to ending prostate cancer. https://zerocancer.org/give